The Idaho Transportation Department's Public Transportation Advisory Council (PTAC) will have its second meeting of 2021 on Tuesday, June 15. The meeting will be held online via Webex from 9 a.m. to 5 p.m. and is open to the public.
PTAC was created in Idaho code 40-514 to advise ITD on issues and policies regarding public transportation in Idaho. The council is made up of six members representing each of the ITD districts, and participates in planning activities, identifying transportation needs, and promoting coordinated transportation systems.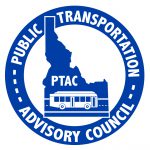 Meeting topics encompass ITD's mission of Your Safety, Your Mobility, Your Economic Opportunity, as it relates to public transportation and the funding programs available to transit providers and stakeholders across Idaho.
A copy of PTAC meeting agendas, minutes, and scheduled dates are located on the ITD Public Transportation website, itd.idaho.gov/pt, under the "Advisory" tab.
Those interested in attending the June meeting may call in using the information listed below.
For more information, contact the ITD Public Transportation Office at (208) 334-8533.
---
Join from the meeting link
https://itdgov.webex.com/itdgov/j.php?MTID=m245a95b8fd998445321b8b4f64864b97
Join by meeting number
Meeting number (access code): 133 895 2273
Meeting password: sKrcP3WgK62
Join by phone
+1-415-655-0003 US Toll
1-844-740-1264 USA Toll Free