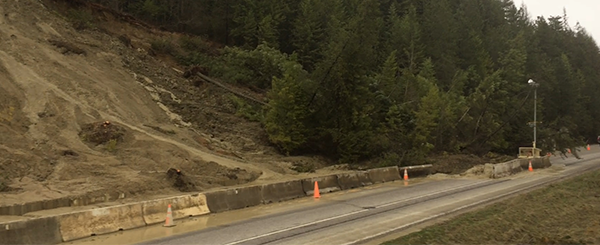 ITD crews were on scene with cameras rolling as a hillside broke free and covered a section of U.S. 95 south of Bonners Ferry on Friday, April 7.
In the video, you can see tons of mud, rocks, and trees slide down, pushing two layers of concrete barriers off the road. Overall, 800 cubic yards of debris slid onto the road.
Thanks to quick action of ITD crews on scene, no one was injured by the slide. ITD Land Surveyor Mathew Wilson, who took the video, was assessing the hillside stability. He heard popping and cracking and knew another slide was imminent. Thinking quickly, the flaggers on scene stopped traffic and just three minutes later the hillside gave way.
ITD crews cleared the debris from the road Friday evening. Additionally, crews dug out an extra 600 cubic yards of dirt beside the road to create a channel for water to run.
Currently, ITD is keeping one lane open on this section for the safety of the traveling public. Cars will travel on the southbound lane, away from the hillside. Flaggers will direct traffic and actively monitor the area.
This section of hillside continues to be unstable. Crews have noted progressive shifting near U.S. 95. Rain is in the forecast and there remains 18 inches of snow above the slide area. ITD is working with geology specialists to assess the situation. With public safety as a priority, additional traffic control measures may be taken.
Several areas of North Idaho are impacted by this year's historic winter precipitation. Slides have occurred on Idaho State Highways 3, 5, 57, and 97.