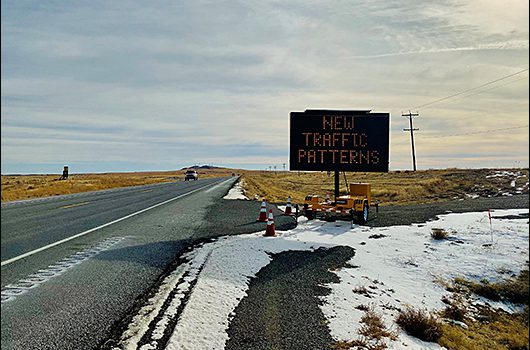 Motorists traveling on US-93 south of Shoshone next week will encounter a change in traffic pattern as newly constructed climbing lanes open for use. The new lanes are expected to open on Tuesday (Nov. 5).
"The addition of these climbing lanes will allow drivers to safely pass slower vehicles that may be traveling along the elevated stretch of roadway," said south-central Idaho project coordinator Kenny Lively. "These new lanes will improve safety in the corridor for both commercial and passenger vehicles."
Since May of this year, the Idaho Transportation Department has been constructing a divided highway with approximately three miles of northbound and southbound lanes near Notch Butte.
Portable message signs have been added on US-93 alerting drivers of the upcoming change in pattern. Motorists should pay attention while driving through this area as they become familiar with navigating the new roadway.