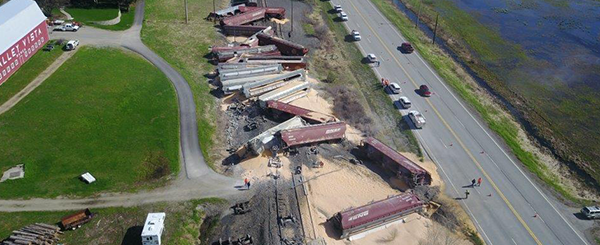 Coeur d'Alene – Multiple train cars derailed ten miles north of Athol, ID near the roadway Monday, spilling corn and posing a danger to drivers on U.S. 95. ITD immediately closed southbound lanes to travel, placing flaggers on the road to direct two-way traffic on the northbound lanes. Watch aerial video of the derailment below.
Motorists can expect both southbound lanes will be closed for the next two weeks while crews remove 25 derailed cars. Crews on scene have observed an increase in animals approaching the wreck to eat the spilled corn, so drivers should use caution in the area.
ITD engineers have been unable to determine the extent of the damage the derailment caused. Primary concern focuses on an approach to U.S. 95 where the cars derailed.
ITD will continue to work with BNSF to ensure safe travel near the derailment.