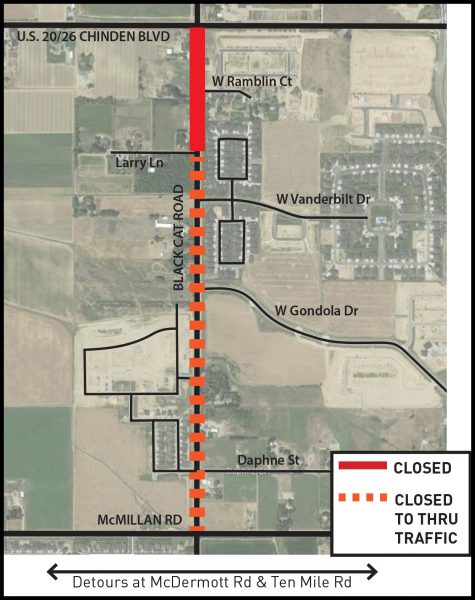 Black Cat Road will close beginning July 6 to all traffic between Larry Lane and Chinden Boulevard (US 20/26) and to through traffic between McMillan Road and Chinden, as crews make improvements to the Chinden/Black Cat intersection as part of the ChindenWest project.
Work is scheduled to occur during the day and be complete in early August. Crews will be working in the area prior to the closure relocating utilities. Although not expected, night work is allowable.
When complete, Black Cat will have a dedicated left-turn lane to Chinden and a center turn lane that connects to the existing three-lane configuration south of Larry Lane.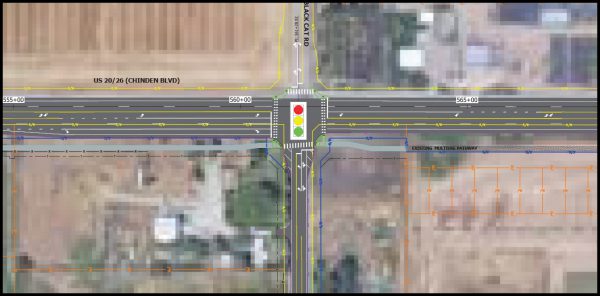 Traffic will be detoured via Chinden and McMillan to McDermott Road and Ten Mile Road.
Project Overview
Construction is ongoing in segments of Chinden between Eagle Road and Star Road. Specifically, paving operations to widen the highway to two-lanes in each direction is underway between Linder Road and State Highway 16, and turning movements are restricted between Locust Grove Road and Eagle as crews prepare this segment for widening. Most work is scheduled for completion in late fall 2020.
The corridor, dubbed ChindenWest, is a vital east-west corridor in the heart of the Treasure Valley. The construction will add travel lanes, widen shoulders, and build a separated path parallel to the roadway.
The project website, ITDprojects.org/ChindenWest, serves as a hub of information for the public, including videos that provide a window into the future. The one-stop-shop website includes detailed information about construction activities, anticipated traffic impacts, and the improvement designs.