The Idaho Transportation Department is issuing a travel advisory on Idaho Highway 55 near Marsing for July 3, 2019.
Construction to rebuild ID-55 through downtown Marsing and the bridge over the Snake River will impact travel around the City of Marsing's annual July 3rd Fireworks Extravaganza at Marsing Island Park. Traffic will be reduced to a single lane on the highway north of the bridge and in town. No left-turns will be allowed in town during the event.
The Snake River Bridge is closed to pedestrians and bicyclists. The City of Marsing has arranged for a free shuttle service to and from the event. Please see the event map below for details.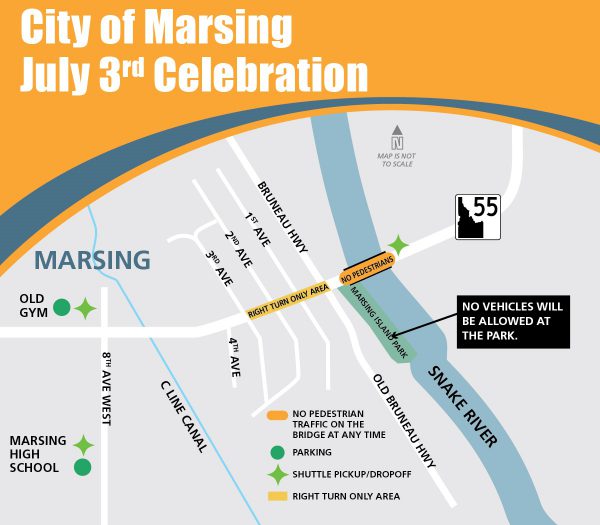 ITD encourages those planning to attend the event consider using U.S. 95 to reach Marsing. Consider carpooling to alleviate congestion as over 5,000 visitors are expected to arrive for the celebration. Plan extra time for the return trip. Please exercise patience and kindness as you leave.
ITD reminds those who will be drinking during the event to make a plan in advance to get home safe. The Department is partnering with law enforcement to increase DUI patrols during the Fourth of July week.