The Idaho Transportation Department (ITD) donated $10,000 to the Utah and Idaho Chapter of the Cystic Fibrosis Foundation at a ceremony at the Thornton Interchange in eastern Idaho October 10. The prize money came to ITD when the Thornton project won the America's Transportation Awards public vote earlier this fall.
Pictured (L to R): Scott, Lina and Kim Robinson present the donation to Cystic Fibrosis Foundation representative Joe Wojciechowski. District Engineer Jason Minzghor (far right) served as event emcee.
Now 20, Lina Robinson (daughter of D6 Maintenance Foreman Scott Robinson) has suffered with Cystic Fibrosis since birth.
So far, there is no cure for the disease. The Cystic Fibrosis Foundation supports a wide range of research that focuses on the hunt for a cure and improving the quality of life for patients. The disease afflicts roughly 70,000 people worldwide.
"With this donation, we are partnering with the Utah and Idaho Chapter of the Cystic Fibrosis Foundation," said ITD District 6 Engineer Jason Minzghor. "ITD is pleased to be able to contribute and, in this small way, be of assistance to Lina and others who deal with the genetic disease."
"The disease is a steady challenge," Lina said. "I have learned to accept the treatment requirements. A number of medical advances over the years have improved my quality of life. The biggest challenge is trying to fit the treatments into my busy schedule."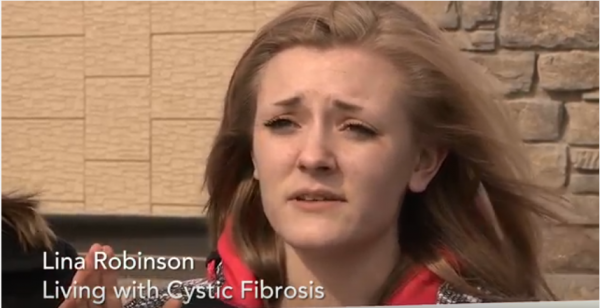 The Thornton Interchange on U.S. 20 south of Rexburg opened Nov. 18, 2016, marking completion of all the work needed to make the corridor a safe, modern highway. District 6 has completed 20 years of work along the 34-mile stretch of highway between Idaho Falls and Sugar City, closing 18 at-grade (level) intersections and constructing seven full interchanges.
Despite traffic volumes more than doubling while the new interchanges were being built, the safety improvements decreased serious-injury crashes by 75% and reduced fatalities to less than one per year. Improvements furthered ITD's mission of safety, mobility and economic opportunity for the traveling public, saving lives and reducing property damage.
Innovation in design and the safety that resulted from construction of the new interchange has been widely recognized, with the project winning three prestigious awards:
1. President's Transportation Award for Highway Traffic Safety – American Association of State Highway and Transportation Officials (AASHTO).
2. "People's Choice" Award – America's Transportation Awards.
3. Best Use of Technology and Innovation – Western Association of State Highway and Transportation Officials (WASHTO).