It's been a busy couple weeks; fire season is officially here. It started as soon as a human-caused fire closed Interstate 84 near Glenns Ferry on June 5. As soon as winter snows melted and spring floods subsided, summer dryness hit the lowlands.
The past two weeks has seen a series of small brush fires grow out of control and close several routes throughout southern Idaho – I-84 near the Utah border for several hours, U.S. 26 on two occasions between Bliss and Shoshone, Idaho Highway 75 north of Shoshone, as well as U.S. 93 and Idaho Highway 24 near Shoshone.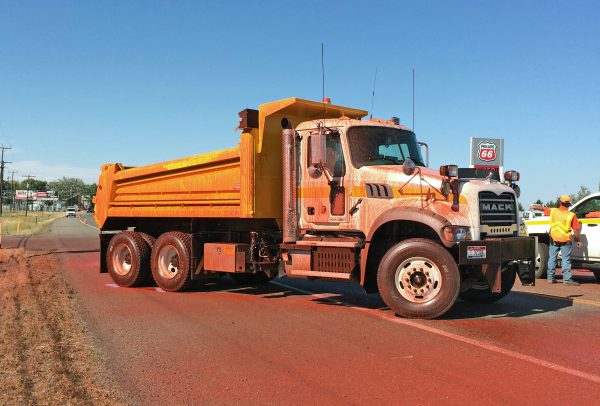 The latest, the Antelope Fire, started last Sunday around 6:30 p.m. It originally started off U.S. 26, between Shoshone and Gooding, following a lightning strike in the sagebrush desert of western Lincoln County. Bureau of Land Management (BLM) resources struggled to gain control through the night, due to high winds and high temperatures. The fire jumped U.S. 26 several times.
Around 10 a.m. Monday, the south side of the fire kicked up and made a push on Shoshone.
"The winds were burning at approximately 25 mph, with even higher gusts," said BLM Fire Information Officer Kelsey Brizendine. "This caused the fire to make a push at 93, which, thanks to our great partners at ITD, was closed down. This closure remained in effect for several hours, giving firefighters the space they needed, as well as keeping the public safe."
The Antelope Fire closed U.S. 93 just before noon, pushed across the highway, closed Idaho 24 at about 1 p.m. and threatened buildings near Shoshone. The fire was all but out on Tuesday morning, but ended up at burning about 29,493 acres.
"This is going to be a busy year," Brizendine added. "The fuel is thick, dry and the wind makes things hard."
Many areas of Idaho are already under high fire danger due to fuel loads and dry conditions. Many of the initial fires that have affected southern Idaho highways have been human caused — only the Antelope Fire was from lightning, giving extra importance to the impact residents and road users have on the travel and public safety.
The BLM reminds the public that whether you are recreating or traveling on the highways or back roads, keep fire prevention in mind and follow these fire prevention tips:
On the road:
· Keep tires properly inflated.
· Grease your wheel bearings.
· Tie up trailer safety chains.
· Do not drive or park in tall, dry grass.
At the campground:
· Have a shovel, bucket, and water nearby.
· Make sure your campfire is completely out. If it's too hot to touch, it's too hot to leave.
Target Shooting:
· Check weather conditions. Hot + Dry + Wind = Quick-Spreading Wildfires
· Choose a shooting area that is clear of dry grass/vegetation and rocks.
· Always bring water, a fire extinguisher and a shovel.
· Discharging a firearm using incendiary, steel core or tracer ammunition is prohibited on BLM lands from May to October 20.
· Burning, igniting or causing to burn explosive material, including exploding targets is prohibited on BLM lands from May to October 20.