The maintenance crew at the distant Powell ITD shed in north-central Idaho are quite accustomed to late-night calls. It is not uncommon to hear the radio in the background as they keep an ear out for alarming chatter while 'off duty.'
The Powell yard is located nearly 90 miles down the scenic US-12 corridor in the heart of the Clearwater/Bitterroot National Forest. It is known by many for both its pristine beauty and rugged terrain that takes you deep into Idaho backcountry.
Unfortunately, a hiker in distress became an emergency call on the radio in the late evening of February 28. The hiker had taken a serious fall during her visit to Weir Creek Hot Springs (pictured below), sustaining major injuries while tumbling down a 200-foot embankment off the edge of the trail and into the creek. Unable to move and in desperate need of help, her companions pulled her from the freezing water to the nearby rocky bank until help could arrive.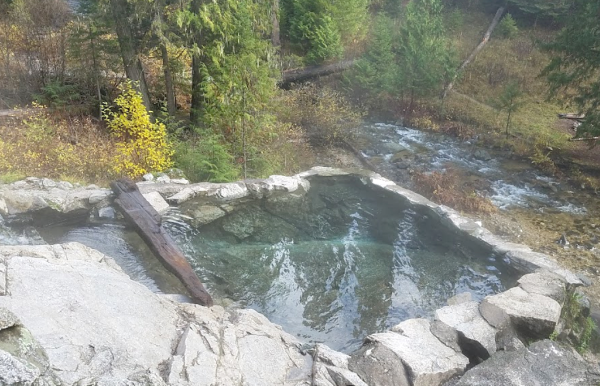 ITD District 2 employees Bill Foust and Casey Zeimantz were the first to arrive on scene, followed by Mitch Miller. The response included Idaho State Police Trooper David Wesche, three U.S. Forest Service personnel, Lowell's Quick Response Team, Idaho County Sheriff Deputy and an ambulance from Kooskia.
The terrain can be described as 'super steep, narrow and super slick.' After locating the hiker, Foust, Zeimantz and Trooper Wesche were trying the determine the best way to get down to her at the creek. "I was just glad it wasn't snowing," Foust said. "It would have made it even more challenging."
Foust assisted the injured hiker by keeping her spirits up and performing a basic medical assessment to determine if she could be moved. "It was difficult to assess because she had been partially submerged for so long. She was extremely cold and hypothermic," described Foust.
Indications were pointing to something broken, like a possible neck or back injury. Caution dictated that she wasn't going to be moved without advanced medical care and proper immobilization techniques.
The medical team arrived from Kooskia and got her situated on a backboard. "We placed heat packs around her and wrapped her up in thermal space blankets. She couldn't feel the heat which started to make us nervous," shared Foust.
Next, a qualified rope team secured her to be carried back up to the trail. Foust estimated that it "took 12 or 13 of us to hoist her out of there inch by inch and with excellent teamwork."
She was extracted at around 4:30 a.m. and en route to the hospital. Her condition was looking grim, but the team was relieved to get her to advanced care in Missoula, Montana.
A tip of the cap to these gentlemen for their eagerness to assist someone in need and for their professionalism under pressure. It was a delicate situation handled with the utmost care.
As a token of their commitment to safety, D2 Operations Engineer Jared Hopkins and Powell Foreman Richard Baerlocher awarded ITD Safety Challenge Coins to Bill, Casey and Mitch.