When city and state partner on a project, great things usually result. Such was the case recently in the small town of Paris, Idaho, where US-89 is a state highway and also serves as the small southeastern Idaho town's main street.
Because Highway 89 is on the State Highway System, ITD has responsibility for the highway. City leaders brought a local safety concern to ITD regarding speeders, and the groups collaborated to solve the issue.
Mayor Brent Lewis contacted the ITD District 5 Traffic section Sept. 25 about converting the four-lane section to a three-lane section, with parking and bike lanes, to help get a handle on vehicles speeding through town. Lewis described people jockeying for position in the four-lane section and this behavior was leading to frequent speeding. Because ITD had just chip sealed and fog coated US-89, it was an opportune time.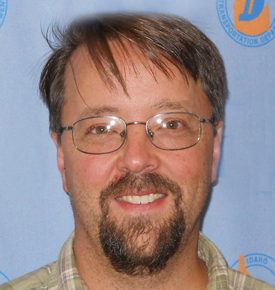 ITD quickly researched the roadway width, contacted the contractor on the chip sealing and authorized changes in striping quantities (from 8,000 Lineal Feet to about 30,000) to make it happen. District 5 Traffic Engineer Corey Krantz (pictured left) decided to employ a "Road Diet" to solve the issue. The Federal Highway Administration (FHWA) defines the Road Diet concept as the practice of removing travel lanes from a roadway and using the space for other uses and travel modes.
The most common Road Diet is to convert an undivided four-lane roadway to a three-lane undivided roadway made up of two through lanes and a center two-way, left-turn lane. The reduction of lanes allows the roadway section to be reallocated for other uses such as bike lanes, pedestrian refuge islands, transit uses, or parking.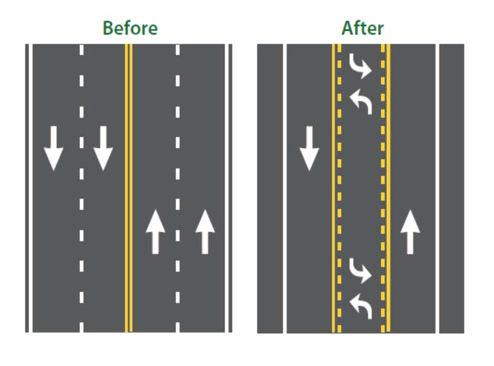 According to FHWA, before-and-after studies suggest a traffic-calming effect that results in a 4-5 mph reduction in the 85th percentile free-flow speed, a 25% reduction in travel speed, and a 30% reduction in the percentage of vehicles traveling more than 5 mph over the speed limit. In addition, lane-elimination projects generally reduce the severity of crashes.
The data shows that these three-lane roadways are effective for traffic volumes up to 20,000 vehicles per day. The traffic volume for the town of Paris is right around 4,000 to 5,000 vehicles per day on a busy summer weekend.
Striping was moved up in the schedule to accommodate the change.
Brad Stevens, a TTO in Montpelier Maintenance, assisted Krantz in laying out the new striping pattern, which took most of one morning to mark out.
"Brad and I got the various lanes widths laid out within the curb and gutter sections," explained Krantz. "It resulted in fewer conflict points, which increased safety."
The road was re-striped to accommodate 11-foot travel lanes, 6-foot bike lanes, and 8.5-foot parking slots, with 150-foot transitions at the ends. The Road Diet provides other roadway features that are more conducive to the general public, like bike lanes and possible changes in parking.
Mayor Lewis is happy with the results. "It looks great, and I've heard many positive comments from citizens. Most of the year-round residents really like it. Our City Council liked it. Mayors from other towns have said they view it as a safety improvement. I have talked to all law enforcement officers and asked for their comments, and what they observe with regard to the change."
"It has definitely helped from a safety standpoint," said Idaho State Police officer Chris Clausing (pictured below), a resident of Paris. Clausing, a father of four who has patrolled Paris for the past two years, has seen egregious speeding first-hand.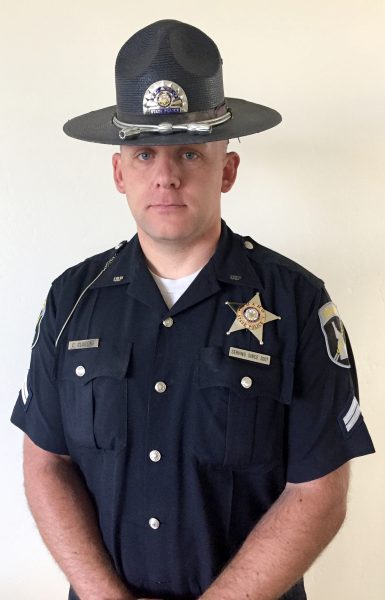 "I've stopped people for going 60 mph and 70 mph through town, and ISP deputies have caught someone doing 80 mph before. The speed limit is 35 mph transitioning to 25 mph, so that is more than excessive in my opinion."
"Speeds have definitely dropped, and the biggest benefit is safety for the kids. There's more of a buffer now between them and the highway lanes. Before, if the kids were playing ball and a ball made it out of the front yard, they were right in the middle of the road, because the highway and sidewalk were right next to each other."
These Road Diets have been used with great success in other Idaho cities such as Victor, Idaho Falls, Rigby, and Malad. Besides Paris, District 5 has been promoting this for the city of Preston for a couple of years, and after many discussions and meetings with the city and the public, the Preston City Council voted unanimously on October 23 to approve a Road Diet through Preston on US-91.
The changes will occur when the highway is seal coated next summer.