The Idaho Transportatio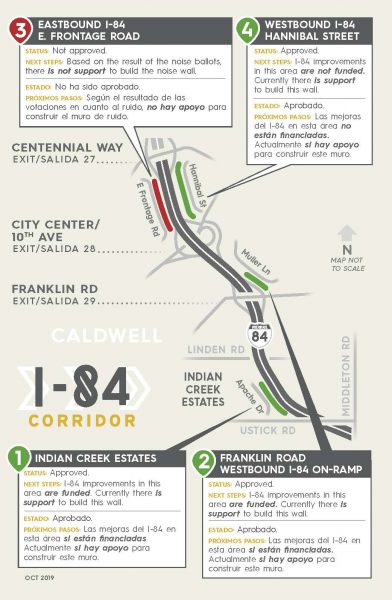 n Department has collected the votes and is making plans for three new noise walls along Interstate 84 as a part of a multi-year study of improvements in Canyon County.
ITD proposed four locations for noise walls. Those locations and the results of votes from those who would benefit from them are:
Along eastbound I-84 adjacent to the Indian Creek Estates – approved
Along the westbound on ramp at Franklin Road – approved
Along westbound I-84 between Centennial Way and 10th Ave. – approved
Along eastbound I-84 between Centennial Way and 10th Ave. – not approved
ITD invites members of the community to ask questions about the project on Oct. 17 at the Caldwell Best Western (908 Specht Ave.) anytime between 4:30 p.m. and 6:30 p.m.
"The decision whether or not to build noise walls belongs to those adjacent owners and residents who are shown to be affected by future traffic noise," said ITD Transportation Program Manager Amy Schroeder. "ITD's role is to model the change in noise levels to determine who is a benefited receptor, follow state and federal noise policies, and facilitate the decision-making process,."
A noise analysis was conducted earlier this year to determine the increase in traffic noise from adding a third lane in each direction on I-84. The next step was to confirm whether noise walls would reduce sound by 5 decibels or more. Human speech ranges from 50 to 65 decibels; traffic noise ranges from 70 to 80 decibels.
The noise study also identified specific properties, or "receptors" that would benefit from mitigation measures such as a wall. These property owners were invited to vote on the walls through an extensive balloting process in July and August 2019. View a map of the receptors.
For a noise wall to be approved, ITD policy states that more than 50 percent of affected property owners must vote "yes." If the property owner vote is 50 percent or fewer, then affected residents are invited to vote. Resident votes must be greater than 75 percent to overturn the owners' "no" vote.
The walls will be designed using concrete panels between 12 feet and 16 feet tall.
ITD is investing more than $330 million into Interstate 84 in Canyon County over the next several years. More information about the I-84 expansion is available at itdprojects.org/84corridor and on the Drive Idaho podcast (available on all podcast players).