The slide condition just days after being discovered
The Idaho Transportation Department would like to advise travelers over the holiday weekend of unexpected delays on Idaho Highway 11 near Headquarters. This will impact drivers on their way to popular sites up the North Fork of the Clearwater River and the Grandad Recreation Area.
"Last month we noticed that the shoulder of ID-11 was falling away from the road," Engineering Manager Bob Schumacher said. "Since then, the northbound lane has sunk further and is now estimated to be an eight-foot drop off."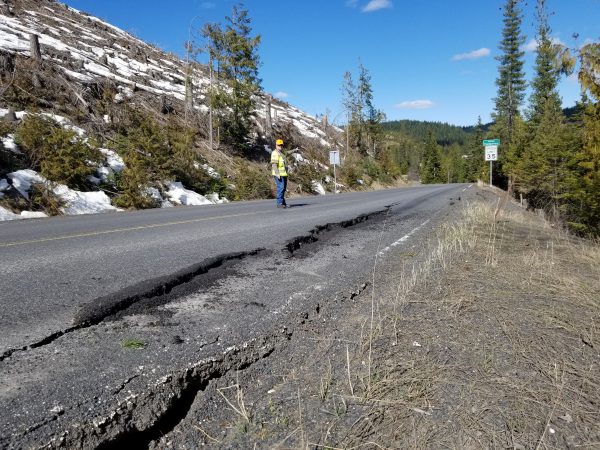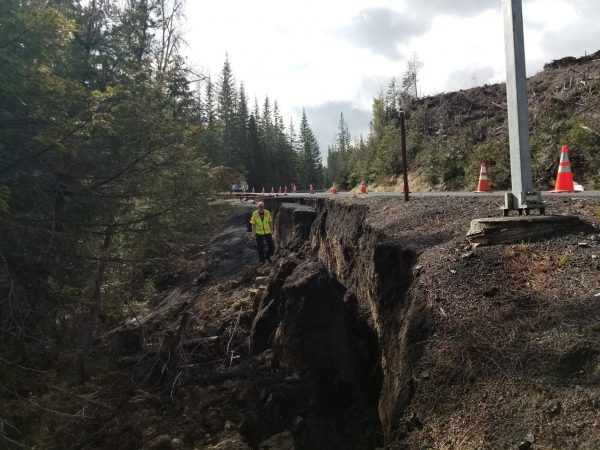 The northbound lane of ID-11 is closed, with drivers required to yield to southbound traffic. A drill will be on site today and tomorrow to bore below the highway and into the slope. While boring beneath the highway, flaggers will stop all traffic for approximately 15 minutes at a time. Crews will also install monitoring devices to track further movement.
"We will collect soil samples at various depths," Schumacher said. "We are looking for layers that appear to be saturated so we can determine the severity of the slide."
Repairs will then be designed and added to a resurfacing project that was already planned for this summer between Grangemont Road and Headquarters. It is unclear at this time how the repairs will affect the timing and budget of the project.
Drivers should continue to expect at least a lane closure in the area and should check 511.idaho.gov for impacts before traveling.