Jan. 9 at 5 p.m.:
US-12 east of Kooskia is now open after crews took care of the aftermath of a storm that brought down trees, triggered an avalanche and deposited more than 2 feet of snow between Thursday and Friday night.
"At times that storm was dumping three inches of snow an hour," ITD Operations Engineer Jared Hopkins said. "Our operators have tirelessly worked to remove an estimated 150 fallen trees and to clear one avalanche."
The avalanche reported near milepost 136 was more than 10 feet deep and 30-40 feet wide.
"We also had to bring in heavy equipment to remove several smaller snow slides that had reached the highway and were too big to push with our plows," Hopkins said.
ITD shut down the highway last Thursday based on avalanche risk, heavy snow and falling trees. Prior to this storm, the last avalanche to reach the highway was in 2008.
"Our avalanche specialists will monitor the corridor through the winter, but it is now safe to reopen with that storm behind us," Hopkins said. "Drivers should be prepared for narrow lanes and patches of ice and snow as we continue to clean up."
Operators have also reopened State Highway 64 east of Nezperce, which had been closed since Jan. 3 due to drifted snow.
Drivers should check 511 for updated information before traveling as conditions could change.
Jan. 8 at 4 P.m.:
Avalanche and downed trees extend US-12 closure for several more days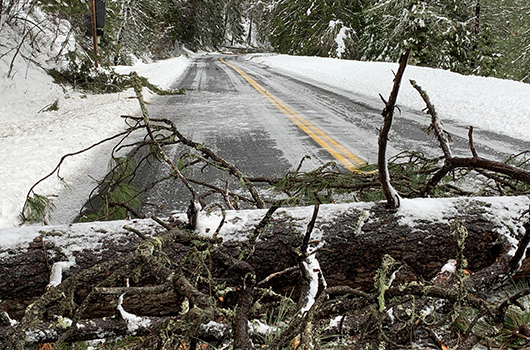 US-12 east of Kooskia will remain closed for several more days as crews clean up at least one avalanche and downed trees.
An avalanche was reported today at milepost 136 within the zone actively monitored by ITD specialists.
"Our operators are working from the east side, cutting through trees trying to access the rest of the highway, so it's possible more avalanches may be reported," ITD Operations Engineer Jared Hopkins said. "We are also still assessing the risk for more avalanches."
Another release will be sent once more information is available.
Jan. 7 at 4 P.m.:
US-12 closure extended due to continued avalanche risk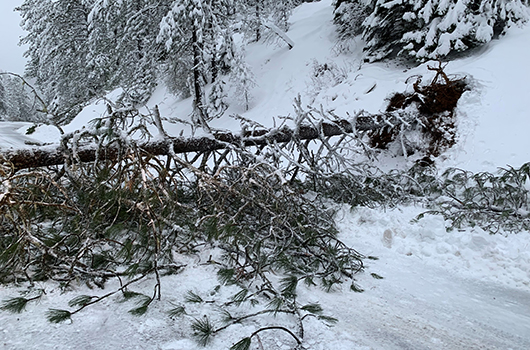 Avalanche danger continues to close US-12 east of Kooskia while specialists monitor conditions and the forecast. The highway will remain closed through the night with another assessment conducted in the morning.
Numerous trees are also blocking the highway, and additional precipitation is expected overnight. Another release will be sent once the highway is determined safe enough to reopen.
The Idaho Transportation Department had announced a closure between Fish Creek (milepost 126) and Saddle Camp Road (milepost 139) at 2 p.m. yesterday based on high risk but heavy snow and falling trees forced an earlier closure for all of US-12 east of Kooskia at 11 a.m.
Jan. 6 at 8 a.m.:
Storm to close US-12 east of Kooskia today, other closures possible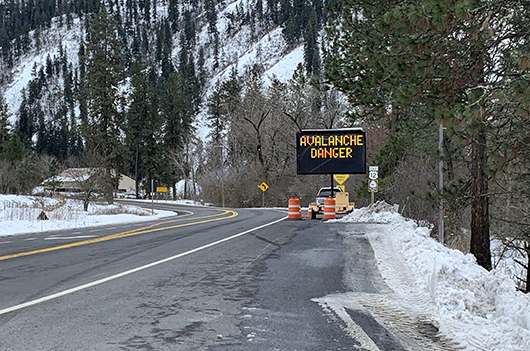 Several miles of U.S. Highway 12 east of Kooskia will close today at 2 p.m. PT due to considerable avalanche risk. Given that the forecast calls for heavy precipitation over the next day, the closure is anticipated to last at least through the night.
The gates at Fish Creek (milepost 126) and Saddle Camp Road (milepost 139) will close, and ITD crews are working with the U.S. Forest Service to notify any recreationists or drivers within the corridor of the impending closure.
Avalanche specialists with ITD will be on site to help local maintenance crews reassess conditions and reopen the highway when it is safe to do so. Another release will be sent once a determination to open the road is made.
The same storm is also affecting several other highways in the region. U.S. Highway 95 south of Moscow is experiencing blowing and drifting snow and could close if conditions worsen. State Highway 64* from Nezperce (milepost 0) to Four Corners (milepost 8) remains closed due to drifting snow. Tomorrow forecasted wind speeds could also create dangerous conditions for drivers on US-95 between Grangeville and Cottonwood, which may result in a closure.
Drivers should use 511.idaho.gov to stay updated on road closures and conditions.
*CORRECTION: SH-64 was closed east of Nezperce for several miles. SH-162 is the highway that connects with Four Corners and closed Jan. 3 from 1 – 7 p.m.