POCATELLO – If Ruffles have ridges, what do riffles have? Beavers, it turns out.
When a few beaver dams on Tin Cup Creek in southeast Idaho started backing up water last fall at a culvert on Idaho Highway 34 and threatening to undermine the road, the Idaho Transportation Department (ITD) was faced with the complication of adding underwater bridge inspections for that remote site.
Instead, they added riffles — really good riffles. ITD constructed the riffles (rocky or shallow parts of a rough-water stream or river) to entice the beavers to build. That's exactly what they did.
ITD crews first removed three beaver dams downstream of the culvert to lower the water level at the crossing. They also removed one dam just upstream of the structure, which lowered the stream channel and de-watered adjacent wetlands in a stretch of the creek.
In collaboration with the Caribou-Targhee National Forest, ITD crews repaired the stream by building two in-stream rock riffles over two days in mid-July. The result was better than what Idaho Dept. of Fish & Game (IDFG) wildlife fisheries biologist Corey Lyman expected.
The photo above shows Mark Porter (ITD District 5 Maintenance Operations) operating a Track Machine while building a riffle. The photo below, taken Aug. 8, shows a beaver dam already built on the new riffles.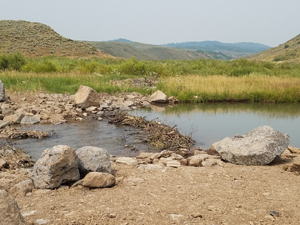 The work not only stabilized the channel and protected the culvert, but also permanently raised the creek bottom, which had eroded down enough to disconnect the water from the creek banks and willow-filled floodplain. Streambed work also improved habitat for fish and for all wildlife living in the area.
"Without water reaching the river banks, the streamside wetlands were drying up and dying, and we were losing the habitat," explained D5 Sr. Environmental Planner Alissa Salmore. "We essentially re-watered the area."
The project also allowed members of ITD's Pocatello, Soda Springs/Wayan, and Montpelier Maintenance sheds to gain experience in stream restoration work. This added to their skill set and reinforced environmental awareness.
Plus, it has already been successful.
"The fish were moving into the dams and claiming territory as we were cleaning up and leaving the project," said Mark Porter of District 5 Maintenance Operations.
Porter also said that beavers have already begun building over the riffles, which was exactly the intent.