Overview
---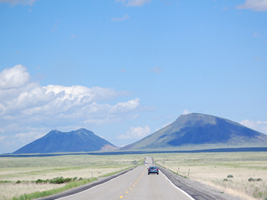 District 6 covers 18,588 square miles of the state and maintains 2,302 lane miles (lanes of road, on- and off-ramps, etc.) and 358 bridges.
District 6 is the third largest by population, with 207,000 residents or 13 percent of the state. Terrain includes plains, valleys and mountains, with highlands boasting eight of the 12 highest mountain passes in Idaho.
District headquarters is at 206 North Yellowstone Highway south of Rigby in Jefferson County, where Jason Minzghor is district (head) engineer. Former Idaho legislator Lee Gagner, of Idaho Falls, represents District 6 and is Vice Chairman on the Idaho Transportation Board. Learn more about District 6.
---
District 6 Phone:
(208) 745-7781
District 6 Fax:
(208) 745-8735
Office of Communication Contact:
Bruce King

Lee Gagner
Board Member
(208) 521-8600

Jason Minzghor
District Engineer
Email Jason
Construction List
East Idaho: 2017 Highway Construction Projects (District 6)
D-6 News
Projects


Yearly Construction Season Projects
Public Outreach
Targhee Pass Environmental Assessment (EA) Update
The Idaho Transportation Department (ITD) is initiating an environmental assessment to evaluate risks, benefits, opportunities and costs associated with reconstruction of Targhee Pass (U.S. 20 between its junction with Idaho 87 and the Montana state line). The Federal Highway Administration (FHWA) is the lead agency on this study and will be signing the final study document. This study will be completed in accordance with the National Environmental Policy Act (NEPA).
ITD to host Alternatives Development Workshop for Targhee Pass EA
The public is invited to attend a public meeting to learn more about the Targhee Pass EA and assist ITD in developing alternatives to be evaluated as a part of the EA.
Targhee Pass Alternatives Workshop
Thursday, July 27 from 4-7 p.m.
Island Park EMS Building (4124 County Circle Road)
Visit www.IslandParkUS20.com for study information, updates, and to provide comments on the study.
You can also contact the study team at:
Targhee Pass Study Team (c/o The Langdon Group)
677 South Woodruff Avenue
Idaho Falls, ID 83401
208-220-5937
targheepass@langdongroupinc.com
Targhee Pass is a portion of the U.S. 20 corridor that has been evaluated as part of a larger safety corridor planning effort for U.S. 20 from Chester to the Montana State Line. ITD has put together a great data resource that contains a vast amount of information and data on this study: http://iplan.maps.arcgis.com/apps/MapSeries/index.html?appid=78faebef829344f9bffe3fba2475353b
Planning
Contact Info
District 6 Phone: (208) 745-7781
District 6 Fax: (208) 745-8735
---
Office of Communication Contact:
Bruce.King@itd.idaho.gov
Freight