Winter Driving
IDAHO READY | Winter Safety Campaign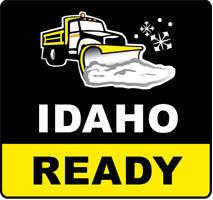 For the latest Idaho Road Report go to: 511.idaho.gov
---
IDAHO READY Blog Posts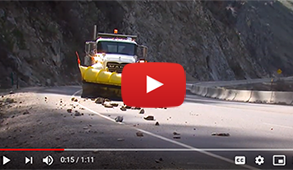 • Spring driving brings new driving precautions
• First Tracks – Teens and Winter Driving
• Road Closed . . . What?!
• Slow Your Roll: Q & A with ISP Trooper
• Snowplow: To pass or not to pass?
• Check 511 before you hit the road this weekend
• How Idaho drivers prepare for winter, even first timers
• Before you go, don't forget to pack your winter car emergency kit
• ITD launches annual winter driving safety campaign
Stay safe with tools and information to drive safe during the winter months.
Spring Driving
Spring Load Limits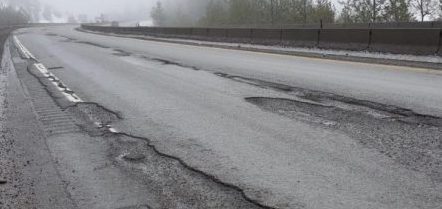 Every spring, ITD imposes spring breakup load limits to protect our highways. This practice minimizes damage to these roads from heavier vehicle loads using these routes during the freeze-thaw cycle. Spring breakup load limits are fairly common in areas with the most severe winter weather — northern and eastern Idaho.
Typically, larger commercial vehicles are limited to a lower speed and axle weight.
When subjected to high speeds and heavy loads, soft spots begin to wear, eventually breaking up and creating potholes.
Motorists are urged to be patient when traveling on highways where limitations have been placed.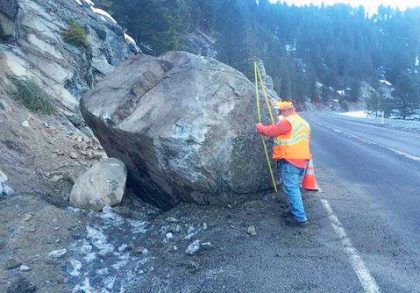 There's nothing like a car-sized boulder resting in the middle of a highway to wreak havoc with your highway travels. Driving has its share of inherent risks, but ITD wants to do everything possible to narrow down the list of hazards.
Every year, the potential exists for rockfall. If there's moisture in the air, chances are pretty good there will eventually be rocks that tumble down to the road below. This is because when hillside soils get saturated by that moisture, they start to give way and can no longer hold back the rocks embedded in those soils.
Precipitation in the form of snow, rain or even fog with a high moisture content increase the chances of a slide.
Not everyone will be like the massive landslide near Elk City in 2016, but it is a stark reminder of the dangers posed this time of year.
These events demonstrate an increased likelihood of rocks and debris releasing from hillsides each spring, especially for highways bordered closely by steep hillsides or mountains.
"Many of Idaho's highways cut through forests and along steep slopes," said ITD Emergency Program Supervisor Neal Murphy. "In the spring, when soils are saturated, the risk of falling debris is significantly higher. That is especially true in forests that have experienced recent fire or in mountainous terrain that is vulnerable to avalanches."
The Idaho Transportation Department reminds drivers to plan ahead and check the 5-1-1 traveler advisory system (via phone or web) before heading out, especially to the mountains.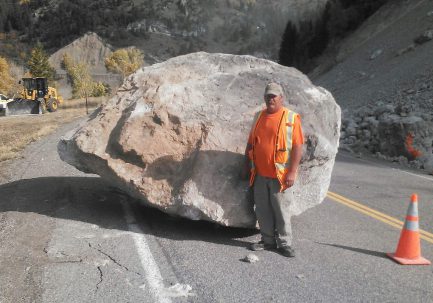 In the event of a slide or rocks on the road, drivers are asked pull onto the shoulder, turn emergency flashers on, and call local law enforcement, the local ITD office or nearest maintenance facility with a location description or milepost. Remain in the vehicle until help arrives.
The landslide west of Elk City carried about 235,000 cubic yards of material – 47 million lbs. – down to the highway. The biggest boulder near Smiths Ferry was estimated at 29 tons. While those are staggering numbers, even much smaller debris could derail a motorcyclist or bicyclist.
A recent spring was highlighted by a 50-ton boulder coming down the hill on Warm Springs in Boise, a rockslide on Idaho Highway 97 in northern Idaho that carried an estimated 450 tons of debris, a huge boulder on Idaho Highway 55 at Smiths Ferry (above photo), and this massive boulder in eastern Idaho.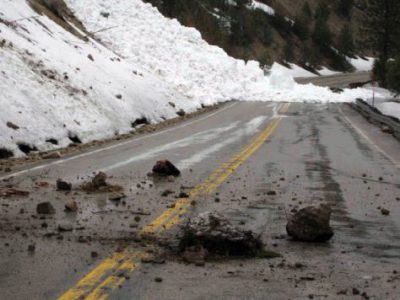 Spring snow conditions can be deceptive. While the air may feel warmer and thoughts turn to spring, often conditions are ripe for a springtime slide.
Our ITD avalanche forecasting crew remains busy into the spring, monitoring avalanche conditions. Even in years with less snowpack, warmer weather creates higher avalanche danger. It can be a time of high volatility from loose, wet snow. Spring can also hold avalanche hazards not encountered during the colder parts of winter. Snowpack and weather transitioning into a warmer and wetter spring pattern can result in snow instability.
Due to this risk, our avalanche crew continues to actively monitor snow pack and evaluate weather conditions outside of the traditional winter months. Their assessment guides decisions related to keeping motorists and our road crews safe.
ITD encourages anyone that lives, works or travels through our state's avalanche zones to visit 511.idaho.gov before you head out. It provides updated traveler conditions, information on potential closures or other hazards.
Rest Areas

Idaho Safety Rest Areas offers the traveler a break from driving to stop and stretch, walk the dog, and let the kids run off pent up energy. After a refreshing break from your driving route, you will be more alert and able to resume your travels.
Facilities vary from site to site but all Idaho rest areas offer tables (with or without) shelters, trash receptacles, drinking fountains, telephones, trees and shade, and travel information boards, in addition to restrooms. Some of the larger facilities offer walking and paved biking trails, larger parking areas for recreation vehicles and semi-trucks, and Visitor Information Centers.

Safety Rest areas are designed for temporary use and do not offer services for extended periods of stay or over night camping. If you need a place to rest over night and wish to camp, please feel free to enjoy any of the camping facilities and public campgrounds in Idaho's State Parks and National Forests.
For more information about Idaho (including complete lodging and campground listings), obtain a copy of the Idaho Travel Guide from the Department of Commerce or visit the following websites:
Idaho rest areas are a stopping place for your relaxation and comfort. Please help us keep them pleasant by using them as they are intended and by being considerate of others.
ITD is committed to doing all we can to provide a safe driving experience on all state highways. In fact, highway safety is a prime consideration along the highway corridor, from design through construction and then with every maintenance effort. Still, the key to preventing accidents, injuries and fatalities is individual driver awareness. Remember to always wear your seatbelt and never mix driving with alcohol or drug use. If you become sleepy or fatigued, stop and rest. That is one prime reason for ITD's rest areas.
For additional information contact Cathy Ford, Roadside Programs Coordinator, at (208) 334-8416.
The Rest Area Activities Program allows nonprofit groups to dispense free refreshments to the motoring public for the purpose of providing a period of relaxation and improving the highway safety.
If you or your organization would like to participate in this program please view our Rest Area Activities Program Packet. For additional Operation Wildflower forms or to apply online please visit the ITD Maintenance Downloads page.
For additional information contact Robin Karsann, D1 Adopt-A-Highway & Volunteer Services Coordinator, at (208) 772-8011
Volunteer Activities
Volunteer Activities

Idaho is a beautiful state and many citizens volunteer their time to maintain Idaho's roadways. There are many ways to volunteer; litter pickup, wildflower planting, graffiti removal, landscape planting and maintenance, yard and building maintenance, and dispensing refreshments to the motoring public at rest areas.
Volunteer Services Program
The Idaho Transportation Department's (ITD) Volunteer Services Program allows individuals or groups to volunteer in ITD-approved activities in addition to the Adopt-A-Highway Program. The activities may include graffiti removal, landscape planting and maintenance, yard and building maintenance, wildlife fence maintenance or suggest your ideas on how you might like to volunteer.
If you would like to participate in this program please view our Volunteer Services Program Information Packet (pdf). For additional Volunteer Services forms please visit the Documents and Forms tab above.
Documents/Forms
Documents and Forms
The forms, manuals and references are made available on the internet by the Idaho Transportation Department as a public service. These internet files may not be used for commercial purposes, nor may the references be published or repackaged for commercial sale.
---
Forms:
Adopt-A-Highway Equipment Request

Please note: This form is to be completed when you are actually picking up the equipment. This form is not to reserve equipment in advance.

Safety Information
Other References:
Vegetation
Contacts
Steve Spoor
Maintenance Services Manager
(208) 334-8413
Cathy Ford
Roadside Programs Manager
(208) 334-8416
Judi Conner
Fuel Systems Manager
(208) 334-8094
Rene Wright
Headquarters TAMS Coordinator
(208) 334-8584
Mailing Address
Idaho Transportation Department
Mobility Services – Maintenance
PO Box 7129
Boise, Idaho 83707
Phone: (208) 334-8400
Street Address
Idaho Transportation Department
Mobility Services – Maintenance
3293 Jordan Street
Boise, Idaho 83703
Fax: (208) 334-8595